Arranged for 2x Trumpets, French Horn, 2x Trombones and Timp.

The tune UNSER HERRSCHER was written by Joachim Neander (cf, LOBE DEN HERREN), with the underlay being Neander's own hymn Unser Herrscher, unser König (Our Lord, our King). It is AAB in form, and in the original the B phrase was a refrain played in a stately triple meter resembling a court menuet (image from 1727 edition of his collected hymns, via Google Books). Born and raised in Bremen, Neander turned from the life of raffish student when he came under the influence of the pastor of the Martinskirche, and from there began a new life of theology, study, teaching, and hymn writing. He had tenures as private tutor, rector (principal) of a school, and lay minister at the Martinskirche. His life was cut short by tuberculosis, at age 30. The tune is set in 8 7 8 7 7 7 meter, permitting application to a wide variety of texts - the Hymnary lists 15 online texts, and shows page facsimiles of several more, including the hymn for which this arrangement was created, the Easter hymn by Cecil Frances Alexander, He is risen! He is risen!, which uses the sun and dawn as metaphors of the Son and the resurrection.
Verse 3 (descant)
Come with high and holy hymning,
chant our Lord's triumphant day;
Not one darksome cloud is dimming
yonder glorious morning ray;
Breaking o'er the purple east
symbol of our Easter feast.
Verse 4 (final)
He is risen, he is risen;
he hath opened heaven's gate:
he has burst his three days' prison,
risen to a holier state;
and a brighter Easter beam
on our longing eyes shall stream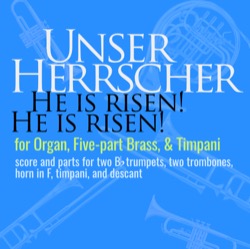 Paid Score
The score and parts are available for $35 via credit card, ACH, or PayPal. Download in minutes.
Easter Brass Arrangements
Make a contribution
All the downloadable scores published here are FREE for normal use (services, noncommercial events). But that doesn't mean we would turn you down if you bought us a cup of coffee.