Audio sample (English version): intro ad lib - hymnal verse (H82) - harmonized descant. Free score.
TOULON is an abbreviation of OLD 124TH, and has no relationship to the eponymous city; the longer form was published in Trente quatre Pseaumes de David, the 1551 Genevan Psalter, edited by Louis Bourgeois. It is a stately tune which in TOULON's shorter form has few appropriate hymns, especially when considering a descant. The original form was published as a unison tune, in that time and place the standard practice, but acquired harmonizations as the tune spread throughout Europe. The hymn God of the prophets, used primarily for ordinations, is an example with sufficient gravitas. This version is the Anglican variant, which retains the original's cadential rallentando by expanding one measure to 6/4 - the third from the end (the words "last with" are half notes, rather than quarters) - lending additional grandeur to the tune.
The hymn God of the prophets by Denis Wortman was originally written in 1884, not for singing, but as a poem of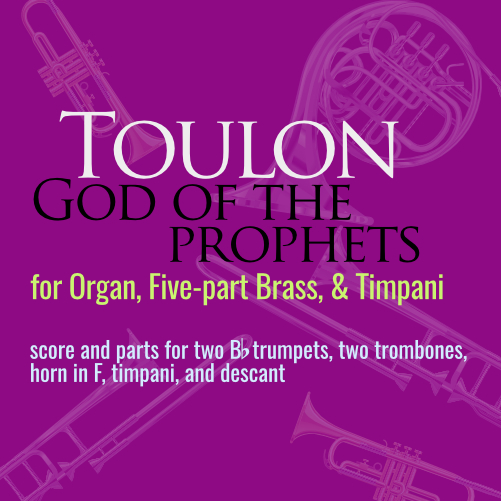 commemoration for the Canadian seminary from which he graduated. It had more verses, and as was typical of the age, addressed to an all-male world of divinity scholars. Within six years it had been adapted to congregational singing, though substantial text alterations over the past century mean seven verses are now five (or four), and one or more of those were written by others, not least because of its original masculine triumphalism (an alternative text - ours, which you may freely use - can be found on the page featuring our brass arrangement). There are additional adjustments which expand its usability, particularly substituting the the first person ("we", "us") for the third ("they", "them"). The Moravian hymn for Pentecost, O Holy Ghost (alt., Spirit of God ) is a very convincing alternative:
1 [Spirit of God], on this great day inspire
our souls, we pray, with pentecostal fire.
Lord, breathe upon us with your heav'nly wind,
that it refresh and purify our mind.

2 Kindle within us and preserve that fire,
which will with holy love our breast inspire,
and with an active zeal our soul inflame
to do your will and glorify your name.

3 Endow us richly with your gifts and grace
to fit us for the duties of our place;
so open now our lips, our hearts so raise,
that both our hearts and lips may give you praise.
References
The Hymnary: TOULON
Glory to God: A Companion (Daw, Carl P. Jr., Westminster John Knox Press. ISBN 9780664503123)
ReformedWorship.org, What we sing is not what he wrote, James Hart Brumm

(The diffference is in measure 14)


God of the Prophets (v. 5)
Make them apostles, heralds of thy cross;
forth may they go to tell the world thy grace:
Inspired of thee may they count all but loss,
and stand at last with joy before thy face.
– Denis Wortman, 1884

---