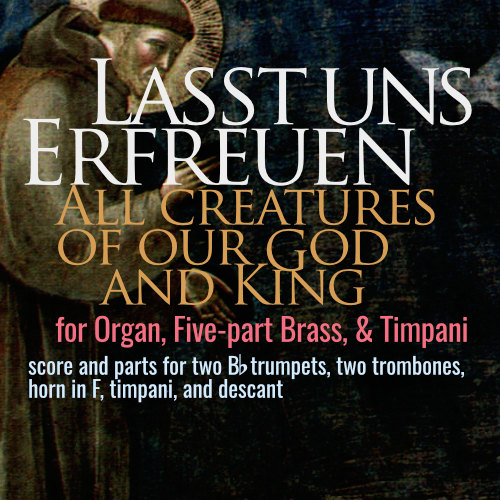 All creatures of our God and King
Seven verse arrangement of All Creatures of our God and King, an adaptation of Canticle of the Sun by St. Francis of Assissi (1225). Very few hymnals use the same text used in any other hymnal, yet these dialectic differences has done little to dampen the affection worshippers feel for St. Francis' hymn and sensibility. The tune was the setting for the Easter hymn, Lasst uns erfreuen herzlich sehr, an anonymous tune which first appeared in the Jesuit hymnal Ausserlesene Catholische Geistliche Kirchengesänge (Cologne, 1623, ed. Friedrich Spee, which quotes antecedents).
This audio demo is based on the Easter version, five verses, descant on verse 2. The All Creatures of our God and King arrangement inserts two additional hymnal verses not included in this audio before the descant, which becomes verse 4.

Together with Easter version
Read more about the special combined package