Arranged for 2x Trumpets, French Horn, 2x Trombones and Timp.

Jesus Christ is risen today / Christ the Lord is risen today


Prologue
Verse 1 with brass
Verse 2 hymnal harmonization
Verse 3 descant
Bridge
Verse 4 with brass / cadential descant


The anonymously-composed tune EASTER HYMN was first published in the 1708 volume, Lyra Davidica, with the title The Resurrection. Unlike the staid metrical psalm settings predominating English hymnody, EASTER HYMN incorporates more variety, with melismatic Alleluias assigned to the congregation. The tune is English in origin, appearing first in tune-and-bass score only, which would not be unusual in the figured bass era, and later as a faburden (tune in the tenor). It was immediately popular, and other musical adaptations were common until it took its final form in Hymns Ancient & Modern (1861).
The older of the two English texts commonly sung to this tune, 'Jesus Christ is risen today,' is based on a 14th C. Latin hymn found in a manuscript from Munich, Surrexit Christus hodie, the English translation hewing closely to the original. A later manuscript from Breslau includes a verse - Mulieres o tremulae - alluding to the first witnesses, the women who came to the tomb:
Haste ye women from your fright
take to Galiliee your flight.
To the sad disciples say
Jesus Christ is risen today.
Charles Wesley wrote the the text 'Christ the Lord is risen today' in 1739 in A Collection of Tunes, Set to Music, As They Are Commonly Sung at the Foundery, an abandoned facility that was the home of London's first Wesleyan congregation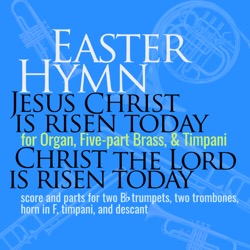 Paid Score
The score and parts are available for $35 via credit card, ACH, or PayPal. Download in minutes.
Easter Brass Arrangements
Make a contribution
All the downloadable scores published here are FREE for normal use (services, noncommercial events). But that doesn't mean we would turn you down if you bought us a cup of coffee.