Descant to the hymn tune DARWALL's 148th. Free score with: prologue | bridge | harmonized descant. Free score.

1
Ye holy angels bright
who wait at God's right hand
Or through the realms of light
fly at your Lord's command;
Assist our song
Or else the theme too high doth seem
For mortal tongue

4
My soul bear thou thy part,
triumph in God above,
And with a well-tuned heart
sing thou the songs of love.
Let all they days
Till life shall end whate'er he send
Be filled with praise
The author of "Ye holy angels bright", Richard Baxter (1615-1692), was a poet and cleric - serving Oliver Cromwell at one point as a regimental chaplain, and then upon the Restoration, was appointed chaplain to the throne; he was subsequently offered the bishopric of Hereford, which he declined. He finished his career as a "nonconformist minister," a kind of freelance lecturer or speaker, not in holy orders and without a parish. The text appeared in his work, The Poor Man's Family Book, as "A Psalm of Praise to the tune of Psalm 148", a reference to the peculiar meter of 66. 66. 44. 44. used in metrical version of this particular psalm. The original was somewhat altered, and verse three was written in its entirety, John Hampden Gurney, to the effect of making the hymn a celebration of the communion of saints.
John Darwall (1731–1789) was an English clergyman and hymnodist best known for his setting of Psalm 148, known as Darwall's 148th, which was sung at the inauguration of a new organ at St. Matthew's Church in Walsall, England, UK, where he was curate, then vicar. This four-part arrangement was first published in Aaron Williams' New Universal Psalmodist (1770) with the tune in the tenor. The text and the music would not be united until 1861, published by William Henry Monk in Hymns Ancient and Modern. Darwall wrote tunes for all 150 metrical psalms; this is the only one that endures. "Ye holy angels bright" can also be sung to CROFT'S 136TH, especially to its original version.
Version published in New Universal Psalmodist, 1770: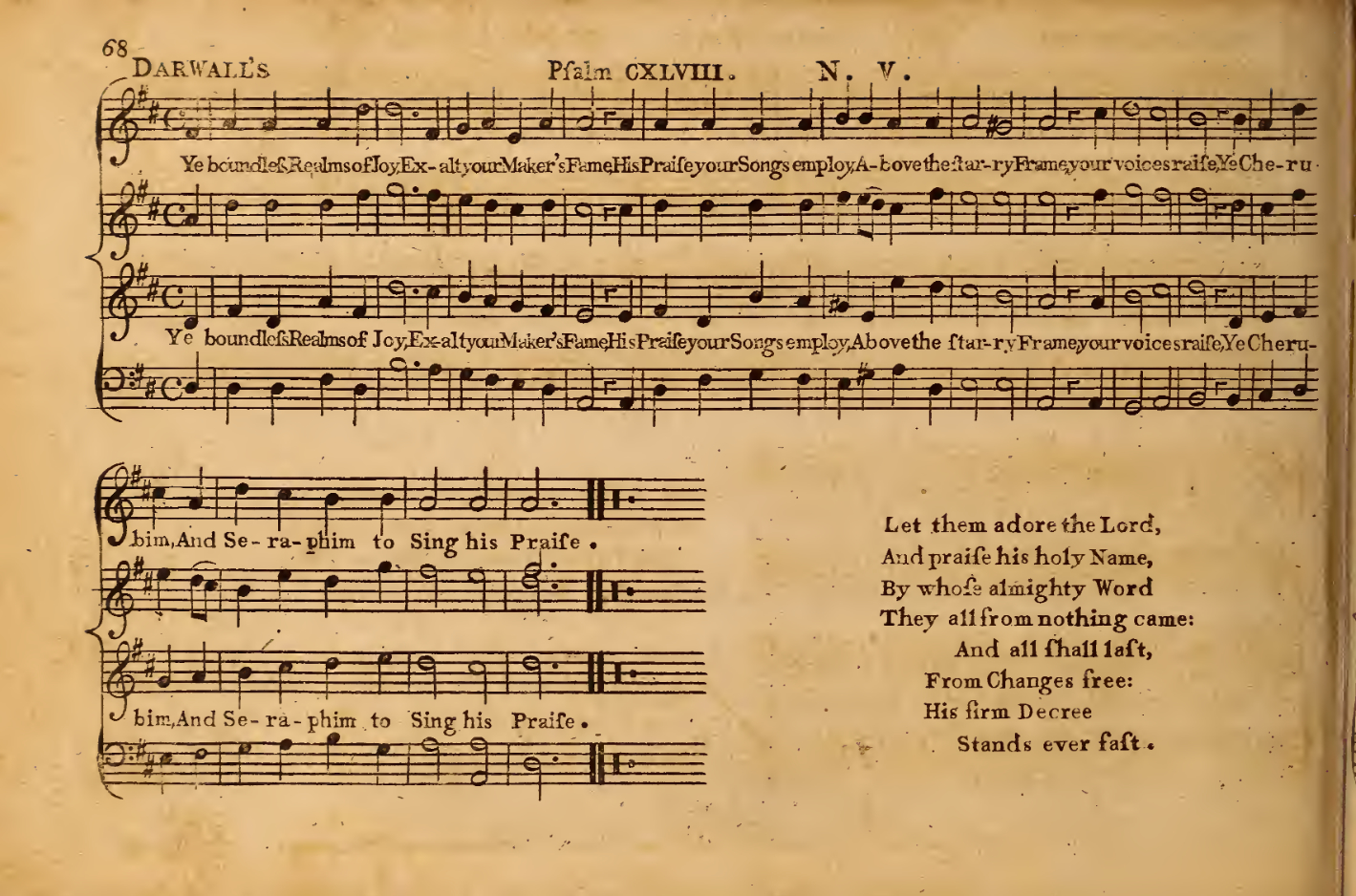 Updated: October 2019, 2020 (changes to organ part only )

Descant verse:
My soul, bear thou thy part, triumph in God above:
and with a well-tuned heart sing thou the songs of love!

let all thy days till life shall end,

whate'er he send, be filled with praise.
– Richard Baxter, 1681

Wesley text - Rejoice, the Lord is King.
Descant written for James Higbe, 1995.
Further reading
An Annotated Anthology of Hymns, ed J.R. Watson, Timothy Dudley-Smith, Oxford University Press, 2002.
Darwall, Hymnary.org
John Darwall, Wikipedia