Five-part brass and timp, organ, congregation, and choir; our own harmonization used as the 'hymnal' setting. The audio is the English variant with a 6/4 bar in the final quatrain. (Score and parts for the 4/4 version are also available on your download page.)

Intro Ensemble + Organ

1 Tutti, base harmonization (original)
God of the prophets, bless the prophets' heirs!
Elijah's mantle o'er Elisha cast:
each age for thine own solemn task prepares,
make each one stronger, nobler than the last.
2 Organ - base, hymnal, or ad lib harmonization
Anoint them prophets! Teach them thine intent:
to human need their quickened hearts awake;
fill them with grace, their lips make eloquent*
that righteousness like morning's dawn light break.*
3 Organ + Descant with harmonization
Anoint them priests, who interceding pray*
For pardon and for love and hope and peace,
That, through their prayer, the world now gone astray*
In Jesus then finds mercy and release.*
- note: descant melisma over tune half notes in 6/4 bar


4 Organ - base, hymnal, or ad lib harmonization
Anoint them preachers of thy love, O Lord!*
Anoint them with the Spirit of thy Son:
Neither by power, nor victor's flashing sword,*
theirs but by love of Christ a kingdom won.*
5 Tutti, separate harmonization
Make them apostles, heralds of thy cross;
forth may they go to tell all realms thy grace:
inspired of thee, may they count all but loss,
and stand at last with joy before thy face.

TOULON
Louis Bourgeois, 1551
adapt. fr. Pseaumes Octante Trois de David
(Genevan Psalter #124)

'God of the prophets' by Denis Wortman, 1884
St. 1 and 5 original
St. 2, 3, and 4 alt.*

*alt. David Maurand CC-BY-NC-SA 4.0 (license)
You can use this text in your event, program notes, and the arrangement you use. You may republish if your work is free and includes the attribution with CC notification; contact us regarding commercial use (sale of product).

Image by Johannes Wünsch from Pixabay
God of the prophets
A festive setting for ordinations and feasts of title. Score, all parts, including choir with the updated text in pdf format: $35. (The organ descant is free, applied to verse five.)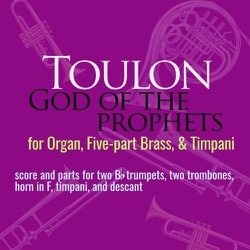 Make a contribution
All the downloadable scores published here are FREE for normal use (services, noncommercial events). But that doesn't mean we would turn you down if you bought us a cup of coffee.