Two versions of our settings of Gustav Holst's majestic tune, THAXTED, arranged to create an enveloping congregational singing experience. This merges three previous versions into one. The higher price than our usual is for a license to allow us to include a copyrighted text in the sheet music.

Small Ensemble (5-pc)
Flute, oboe, cello, harp, and timp with congregation, choir, and organ
Five Piece
with Flute and Oboe
This configuration is compatible with the small ensemble version of Requiem by John Rutter.

Mixed Ensemble (8-pc)
String quartet, French horn, oboe, harp, and timp (3) with congregation, choir, and organ
Eight Piece
with String Quartet
Originally a figure in the symphonic suite The Planets, by Gustav Holst, located in the middle of Jupiter: the Bringer of Jollity, THAXTED was later arranged by the composer as a hymn tune. He gave it the name Thaxted, after the English village where he lived for many years, and where he was founder of an annual music festival. (As Pluto had not yet been discovered, the symphony is an eight-movement composition. And given Pluto's subsequent 'undiscovery,' The Planets remains very much a wonder.)
Michael Perry (1942-1996) was canon at Rochester Cathedral, and editor of Jubilate Hymns. As THAXTED is usually associated with the English patriotic hymn I vow to thee my country, Perry wrote this hymn to provide a text "more appropriate for Christian worship." Originally two verses, a middle verse was added later at the request of Richard Proulx in reference to the Pauline discourse connecting the passing of earthly splendor with future glory, a verse appropriate to some occasions such as a requiem or memorial. But Perry's own preference was that the additional verse should in most cases be omitted. The hymn was written in 1982 specifically for this tune, and a license from the copyright holder, Hope Publishing Company, is required for use.

References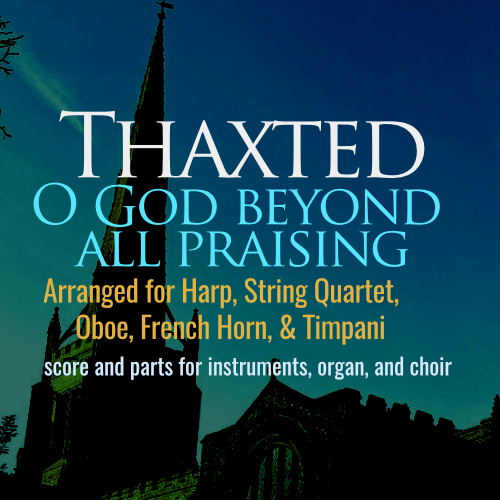 For my daughter, Emily.
Notes:

Each Score & Parts page will have an option to obtain parts for the alternate setting. Common to both are the Choir, Organ, Harp, and Timpani. Cost is $14 additional.
Prologue
Verse (Holst 1921)
Verse (Choir, then all over Holst 1916)
Verse (Descant)
This same descant is free for Organ and Choir
Michael Perry's O God beyond all praising will require a license from Hope Publishing for performance.
Make a contribution
All the downloadable scores published here are FREE for normal use (services, noncommercial events). But that doesn't mean we would turn you down if you bought us a cup of coffee.