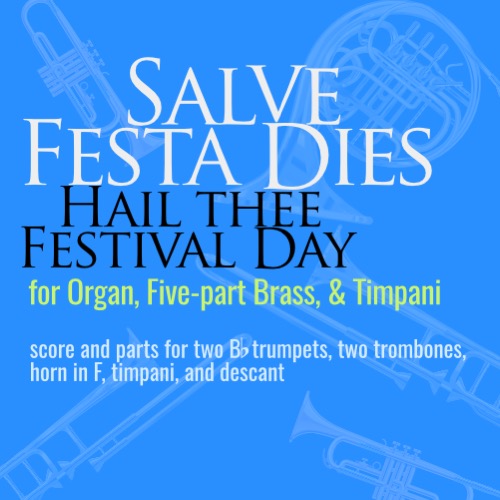 Hail thee festival day
Five-verse arrangement of the processional hymn Hail thee festival day, translated by Maurice Bell in The English Hymnal.
The tune was composed for this 6th C. text, as it has been refined over the centuries, by Ralph Vaughan Williams
Organ score 8 ½ x 14 (Landscape)
Instrumental parts 8 ½ x 11
Choral Part 8 ½ x 11 (descants to two refrains)
The hymn sung to SALVE FESTA DIES* was written by Venantius Fortunatus, a 6th C monk and eventually bishop of Poitiers. Due to the geographic latitude of the land in which he ministered, his poem Tempora florigero pairs the fair beauty of earth from the death of the winter arising with the Resurrection and victory over death. Hymnologist Ruth Ellis Messenger notes that he is the first on record in Christian hymnody to do this. In addition to the Easter text - drawn from the original - there are anonymous 12th C. variants for Ascension and Pentecost, each ending with the antiphon 'Hail thee, festival day' (L., Salve feste dies); there were also variants produced for feasts of the Virgin, Corpus Christi, the Trinity, and All Saints (and for particular saints).
It was immediately used as a liturgical procession, to what music we may never know, and it is considered a prototype of this use. Hymns up until this time were largely 'office hymns' sung in a monastic context. This was something different because it was used in public liturgical celebrations, and its authorship was certain. Its prestige as the prototype of processional hymns was cemented at St. Gall in the 10th C., and subsequent evolutionary practices were encoded in the Sarum and York rites. The original Latin was an extensive 110-line poem opening with life from the death of the winter arising theme, the verse Salve feste dies toto venerabilis aevo ("Hail fesitival day, fully venerated through all ages") appearing at line 39.
The tune SALVE FESTA DIES is one of the four Ralph Vaughan Williams original hymn tunes in The English Hymnal, and is characterized by an energetic rhythm with a pronounced forward motion. Because the setting includes two verses sung alternatim with the antiphon, even the longest of the settings - Easter - sustains congregational interest throughout.
Of particular interest is the introduction of 'God, the All-father,' into some hymnals, connecting the trinitarian First Person to the ancient Norse deity Odin, Alföðr. (In Anglo-Saxon, this is Woden, for whom Wednesday is named.) This is not in the original Latin, but was introduced by Pearcy Dearmer in Songs of Praise (1931). The change was short lived: most English language hymnals over time have reverted to the original, which is especially helpful to those (most) of us who might lack the necessary historical or cultural context to appreciate this detail about a pre-Christian mythological god who sacrificed himself to himself. It might fairly be said that Fortunatus, a Gallican mystic and poet, likely would have missed that part, too - but fortunately, not much else was overlooked.
* Which is correct, festa or feste? The original poem uses 'feste,' and that is the correct version, which appears in all other European uses and the earliest manuscripts. But in the English-singing world, festa has become the convention, and is the only reason we defer to this usage here.
Version 9.4.2
Brass only - changed voice leading in two measures
Version 9.4.1.4
Minor change (one note) in horn
Version 9.4.1.3 C
Revised prologue
Revised harmonizations
Note and measure spacing
Trumpet parts provided in both B

♭

and C
Version 9.4.1
Refrain:
Hail thee, festival day!
blest day that art hallowed forever;
day whereon Christ arose,
breaking the kingdom of death.
1 Lo, the fair beauty of earth,
from the death of the winter arising!
Every good gift of the year
now with its Master returns; (Refrain)
2. He who was nailed to the cross
is Lord and the ruler of nature;
All things created on earth
sing to the glory of God: (Refrain)
3. Daily the loveliness grows,
adorned with glory of blossom;
heaven her gates unbars,
flinging her increase of light: (Refrain)
4. Rise from the grave now, O Lord,
who art author of life and creation.
Treading the pathway of death,
life thou bestowest on all: (Refrain)
5. God the Creator, the Lord,
who rulest the earth and the heavens,
guard us from harm without;
cleanse us from evil within: (Refrain)
6. Jesus the health of the world,
enlighten our minds, thou Redeemer,
Son of the Father supreme,
only begotten of God: (Refrain)
7. Spirit of life and of power,
now flow in us, fount of our being,
light that dost enlighten all,
life that in all dost abide: (Refrain)
8. Praise to the giver of good!
Thou Love who art author of concord,
pour out thy balm on our souls,
order our ways in thy peace: (Refrain)